The Erotic Romance Scavenger Hunt is a blog hop featuring nineteen authors, a ton of exclusive material and fantastic giveaways, and an amazing
grand prize
for one lucky scavenger hunter.
Just joined the hunt?
Click here
to start from the beginning.
RULES
: Hidden within each post on the hunt will be a
single letter
that is
red
. Jot those letters down because they're part of the following mystery phrase you'll need to unscramble:
_ _ _ _ I _ _ _ _ _ _ _ _ _ _ _ R _ _ _ _
At the bottom of each post will be a link to your next stop on the hunt. Once you've completed the hunt, read all the fantastic exclusive material and entered all the individual giveaways, unscramble the letters you collected to reveal the mystery phrase. When you've uncovered the phrase, fill out the
entry form
in order to qualify for the grand prize. Grand prize is open internationally.
You must be 18 or older to enter.
The hunt will only be open for 72 hours so play fast! Entries sent without the correct phrase or without contact information will not be considered. All entries must be received by
May 28 at noon Central Time
.
On with the hunt!
Today, I have the privilege of hosting the amazingly talented Sloan Parker here on my blog.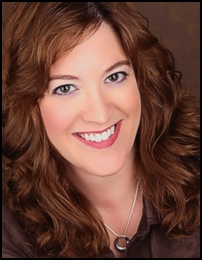 Sloan Parker has been writing and playing with fictional characters for years, but she finally found her true passion when she began telling stories about two men (or more) falling in love. Now she spends her writing life creating m/m erotic romances and romantic suspense. She loves to explore the lives of people who are growing as individuals while falling in love. Her novels MORE and BREATHE are winners of the 2010 and 2011 Rainbow Awards for Best Gay Contemporary Romance.
You can read more about Sloan's work at
www.sloanparker.com
.
NOW FOR SLOAN'S EXCLUSIVE MATERIAL!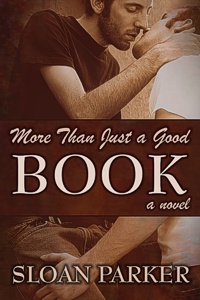 The following is a sneak peek at the next installment (part 5) of my free serial novel
More Than Just a Good Book
. This is an unedited excerpt of a work-in-progress, so the content may change slightly in the final version.
Mark entered the dining hall and zeroed in on Scott. There weren't many students sitting alone with their heads bent over a book. Almost all the others were banded together in groups, either chatting with wild animation or scarfing down their meals in zest, as if this was their last chance to talk or eat for the rest of the semester.
He approached Scott's table near the floor-to-ceiling windows that lined the back wall of the large, circular room. Ominous storm clouds were rolling in across the campus, and the dining hall grew darker with every minute. The wind had picked up outside. A storm was definitely on the horizon. Kind of like his life right then.
And there sat Scott, reading and not even noticing the approaching storm.
He had a nearly full plate of food beside his open book, an almost empty bottle of Mountain Dew clutched in his hand. There was a stack of books next to his backpack. All new releases. Someone had spent a
f
ew hours at the library. That had Mark smiling, despite what he'd been through since the day before.
"Hey."
Scott's head snapped up. A smile formed. Nothing shy or reserved about the thrill visible on his face at seeing Mark again.
Mark couldn't resist. He leaned down and kissed him.
He'd meant for it to be a quick, publicly acceptable kiss, but Scott's lips lingered over his and a hand wrapped around the back of his neck. A still-somewhat-tentative grip, yet one he didn't want to walk away from.
He needed the touch, the comfort of having Scott close, of being with someone, other than Dr. Wolfe, who would believe him. The cops sure hadn't seemed like they did.
Would Scott?
Reluctantly, he pulled away and took a seat across the table. The scent of pizza and garlic bread filled the dining hall. This was the first time he'd felt hungry since the day before. He stole a fry from Scott's plate. It was ice cold. "How long have you been here?"
"A couple hours. Got started reading and…" He shrugged.
Mark gestured to his plate. "You didn't finish your dinner."
"I wasn't that hungry." He bounced a little in his seat. "So…what did they say? What questions did they ask? When will you know how it went?"
"Not anytime soon. They had to reschedule before we even got started."
"You're kidding? That sucks."
"Not as much as what I spent yesterday and today doing instead of defending my dissertation." He did not want to admit any of it. Who wanted to date someone with this kind of baggage? The thought of Scott leaving him sent panic surging. An ache worse than any humiliation or frustration during the past twenty-four hours. He wouldn't keep this from Scott, though. Not even if it meant watching him walk out of his life.
"I was taken to the police station for questioning."
Scott's posture stiffened. His eyes widened. No more bouncy excitement. This sucked worse than the fingerprints and DNA sample, worse than the glare of the cop who'd taken his statement, than the call to a lawyer specializing in this kind of defense.
"Because of Bruce?" Scott asked.
"Yeah, but not for the reason you think."
To read more of Mark and Scott's story, visit
http://www.sloanparker.com/free-MoreThanJustAGoodBook.htm
-----
WAIT, THERE'S MORE!
To win an ebook copy of anything from my (Mary's) DSP backlist, just leave a comment with your email address on
this
post, tell me what you would like, and I will pick a winner on Sunday, May 27th.
Ready to move on? The next stop on the Erotic Romance Scavenger Hunt is... Carole Cummings!
Good luck!