It's Halloween y'all, so I hope every one has a wonderful and safe one. I'm happy to have the wonderful Lisa and her gang from
The Novel Approach
back for another edition of Booyah Books.
***
It's hard to believe we have another month behind us. October went by in a blur and has sped us way too quickly toward the coming winter months—although those are the best ones for curling up with a good book, so there are good things about that hibernation time too.
J
So, without more unnecessary rambling, here are our Booyah Book! picks for the month of October:
*~*~*~*~*~*~*~*~*~*~*~*~*~*~*~*
First up is Lana's choice, Rising Fenzy: Men of Myth, Book Two by Brandon Witt. Here's what she had to say about the book:
Rising Frenzy is the story of Finn's and Brett's separate lives and their struggle to move on. Oh, and how upset I was when I realized that they were not getting back together!! Yet!! I hope!! There's the set up for the next book and plots involving supporting characters but at its heart, its Brett and Finn's story.
Only one word can describe the writing in this book: incredible! Mr. Witt is a great storyteller. His words create amazing visuals. The dialog was superb and flowed without any awkwardness. He needs to write a script and make these books into a movie.
Is it too obvious that I loved this book? Trust me, you will too! 5 stars, enough said!
Lana's full review can be found
HERE
*~*~*~*~*~*~*~*~*~*~*~*~*~*~*~*
Next up is Tina, who has selected Rowan Speedwell's Illumination as her top read for the month. Read on to see why:
During one last night on the town with his friend Evie, Adam takes some pills given to him by a band mate. Two men die that night because of those pills. Adam barely survives. He and Evie are both convinced to go to rehab for a couple of months. Adam will then move to an outpatient treatment facility.
Any more than this and I will be crossing the line into spoilerville, if I haven't already. Seeing the improvement in Miles's mental health was an amazing thing to behold. The courage Adam showed in his willingness to follow his dreams was admirable. Grace was hilarious. Evie, as the faux girlfriend was more of a friend to Adam than anyone else in his life. Reading the scene where Adam and his older brother are bickering in their mom's kitchen and she sends Adam to his room brought back funny memories.
This was a great read. Strongly recommended.
Tina's full review can be found
HERE
*~*~*~*~*~*~*~*~*~*~*~*~*~*~*~*
BJ's choice for book-of-the-month comes from author Tom Mendicino, and his novel Probation, the story of a closeted man outed in the worst possible way. Here's what BJ has to say about the book:
I read a lot of books. I read fantasy and crime. I read love and angst and triumph and failure. Usually it's easy to tell which genre a book fits into. But Probation was a different story altogether, in more ways than just the obvious pun. As a reviewer I need to connect to a book, to feel the emotions, to envisage the scenes and dissect the motives. This book is not a standard m/m romance, and I didn't know where it fit. One place it did fit, however, was in my heart.
It gives me great pleasure, and a warm and gooey feeling to offer this unexpected but totally appreciated addition to the world of gay literature a wonderful and well deserved 4.5 stars. You can check out Mendicino's other work on Amazon and all other major retailer, at TLA, at the publishers own site over at Kensington Books or at his own website. He's certainly worth the time, and then some.
BJ's full review can be found
HERE
*~*~*~*~*~*~*~*~*~*~*~*~*~*~*~*
Next up is Lynn, with her choice of Allison Cassatta's Relationships 101 (Dear Diary: Book Three) a coming-of-age story about trust and having faith in the love you share. Here's what Lynn has to say about the book:
This is the third installment of the Dear Diary series, I highly recommend reading Dear Diary and Dear Diary: Pride first to follow Chris and Josh's story from the beginning.
This is definitely a coming of age story. Chris is now at college along with his boyfriend Josh. They've been together for a year now and are ready to start the next chapter in their life.


With Chris and Josh this was a little turning point in their life. They are definitely in it for the long haul, and it's been a pleasure being there with them while they go through this crazy journey called life.


Overall, this was such a great read. Life lessons are hard to learn but it's much better to learn them with someone you love by your side.
Lynn's full review can be found
HERE
*~*~*~*~*~*~*~*~*~*~*~*~*~*~*~*
Jackie's selection this month comes from Cardeno C. and the book More Than Everything, a ménage story that has its share of both humor and heartbreak. Here's what Jackie has to say about it:
This isn't the average M/M/M story. In my opinion, this is a very unique take on the concept and it just works. There were moments where I loved the MCs and moments where I hated them. That is how I know a book was great for me, when I am emotionally invested in the outcome. I think this is one of Cardeno C.'s best works, and I have never laughed as hard as I did while reading the scene about the lentils. That was just brilliant!
If you have liked Cardeno's work in the past, I think you will love this one. I know I did
.
Jackie's full review can be found
HERE
*~*~*~*~*~*~*~*~*~*~*~*~*~*~*~*
Garrett Leigh's latest release, Slide, made a huge impact on Kim and became her hands-down choice for top pick of the month. Here's why:
Ash took me for ride through his own personal hell, but he also showed me his strengths as well as his weaknesses. And how hard it was for him to fight his demons. I was with him as he took his baby steps with Pete. And it didn't take me long to figure out that something horrendous had happen to him as a child to cause all this torment he's going through. Damn! If this wasn't the best description of what it's like to suffer from PTSD from an insider's POV I've ever read. Ooops, sorry, three years majoring in Psychology speaking here.
Slide is a beautiful, well written story, and I just love how it all fell together. There are parts that were heartbreaking, but it wouldn't have been such a great romance without some angst.
I'm giving this one 5 full stars and highly recommended.
Kim's full review can be found
HERE
*~*~*~*~*~*~*~*~*~*~*~*~*~*~*~*
My choice this month was a very difficult one, though only because I read several books that could very easily go into this month's article. But, just like staring at a restaurant menu and not knowing what to choose until the waiter looks at you and waits for your order, now that it's back-to-the-wall, choose-it-or-lose-it time, my selection for top read of the month goes to S.A. McAuley's Someday It Will Be, a supernatural love story that defies all the rules of time and space, and delivers a romance that is at once heartbreaking and hopeful.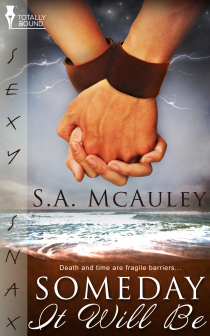 S.A. McAuley has written a full-circle story in which the end is only the beginning. It is a story of a love that is infinite because that love defies the rules of what is and what can be. It is romantic and evocative, heartbreaking and beautiful, filled with the impossible that comes true, and the promise that trust in the power of a soul-deep connection can give a man lifetimes in which to make amends for mistakes.
I love this book, so much so that I've read it three times and wished each and every time that it had ended with the promise of a "to be continued…" because in the place where Poe and Isaac exist, the continuation is certain to be one of the best parts.
My full review can be found
HERE
*~*~*~*~*~*~*~*~*~*~*~*~*~*~*~*
And that wraps up another month of Booyah Books! Until November, happy reading! :)