For a long time, now, Mary has given me a standing invite to visit her blog, but for various reasons (read: Jaime is crap at remembering to do things) it hasn't happened until today. So thank you, Mary, for being so very, very patient.
I'm really happy to be unveiling this print anthology of my dance stories, with three brand new, exclusive to this collection short stories about some of the in-between times and fringe characters alluded to in the main stories. Fair warning, I am totally dragging Mary into this, so be prepared :)
Now, if you all are like me, and I think it's safe to assume a lot of you are, because if you're here, you probably read Mary's books and maybe you'll agree that one of the funnest things she does is treat us to little Easter eggs in her stories.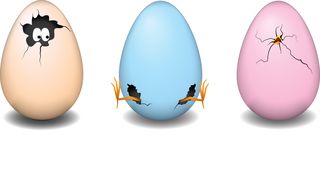 No, not
actual
Easter eggs. I love it when a Marshal turns up in some unexpected place, or we see a crime boss in the background of a random restaurant scene, or one of Sam and Jory's kids runs helter-skelter through someone else's crime scene. (I don't think that last one ever actually happened. But it could. Food for thought, Mary…)
Anyway, the thing is, this penchant of hers makes me pay more attention to those seemingly inconsequential tertiary characters. You never know where they might pop up again. They might even get their own book some day. In doing so, I have actually ended up paying more attention to some of my own throw-away characters. They become not-so-throw-away, and I feel like they need their little bit of the universe expanded.
So in a way, you can say that Mary is to blame for the three extra short stories in this anthology. So blame Mary. She's awesome that way.
I'd like to give away a copy of this book while I'm here, and since it's a print only volume, it will be signed. Here's what to do: Comment on one of your favourite Easter eggs (one of mine, or one of Mary's) and I'll pick a name from the commenters out of a hat and send you a book!
I'll give some hints for mine, because I'm guessing fewer of you have read fewer of my books than Mary's. Think Patchwork Heaven music and The Detail Security Experts.)
Good luck, and let's talk books!
Oh, but first. Pretty cover, because, well. It's spectacular!